Digital connection has been crucial in maintaining personal and professional relationships during the COVID pandemic. For those with connectivity, the internet has facilitated access to communities, conversations, customs and cultural heritage sites that would otherwise be inaccessible during such a significant global health crisis.
Thanks to its Founder and Director, Jibunnessa Abdullah, I was recently asked to present at the Digital Museum. I spoke of China's underwater archaeology and its connections with Southeast Asia. I talked about the origins of underwater archaeology in China, to its significant shipwrecks, like the Nanhai No. 1 Song Dynasty Shipwreck, China's experiences with commercial exploitation, explorations along the Maritime Silk Route, the ports and harbours which facilitated the globalisation of Sino-Foreign maritime cultural exchange, and more importantly, how China might use the uncovered evidence to support its Belt and Road Initiative and South China Sea strategy.
The webinar was part of the Digital Museum's pandemic programming. It was delivered via zoom, was recorded and is available online, free of charge. Please register here to watch it on-demand, anytime, anywhere. I do hope you enjoy it.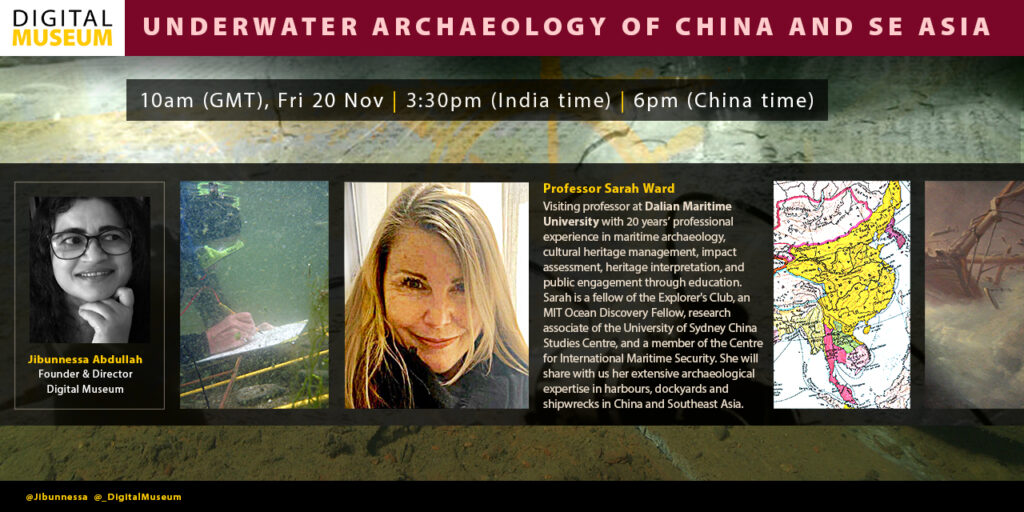 The research presented was part of Chinese national research project, A Study on the Globalisation of Sino-Foreign Maritime Cultural Exchange (Approval No.17JZD049), supported by the Ministry of Education, P.R. China, and delivered by the Centre for Maritime History and Culture Research at Dalian Maritime University.
If you have any questions about anything in the webinar, drop them in the comments box below, and I will do my best to answer them!